HBSAOC Event: How to Proactively Protect Your Primary Assets….Your People

Members of the Harvard Club of Southern California are cordially invited to attend this special Harvard Leadership Series event, organized by the Harvard Business School Association of Orange County.

EVENT DETAILS:
Date: Thursday, February 23, 2017
Time: 7:00 AM to 9:00 AM
Location: Back Bay Conference Center 3415 Michelson Drive Irvine, CA 92612
Cost: $20- Member Pre-Registered Online with promo code $50- At the Door (Subject to Availability)
Register: Click here to register through the HBSAOC website.

SCHEDULE:
7:00 - 7:45 am - Arrival and Breakfast
7:45 - 9:00 am - Program
9:00 am - Conclusion

A mandate of the HLS breakfast is to address business and leadership topics that are both timely and relevant. The reality, whether we like it or not, is that violent acts in our society and especially workplace violence, which also includes "terrorism," is increasingly becoming a 'business element', compounded by many organizations' global footprints. This is a modern reality organizational leaders must address – how to proactively protect your primary assets, most importantly your people.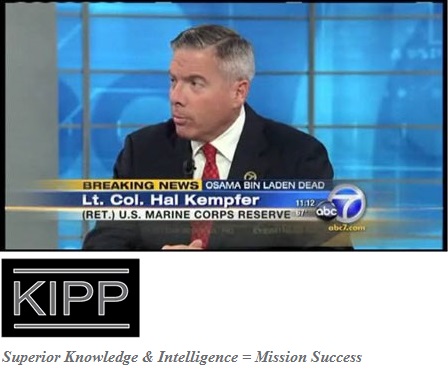 Hal Kempfer, has been the go-to "expert" on intelligence, Homeland Security, military affairs, violent extremism, war and terrorism over the last 15 years for the largest television news station in California, ABC7 as well as 89.3 FM National Public Radio, and featured on ABC network news and 20/20. He is the founder and CEO of KIPP (Knowledge & Intelligence Program Professionals, Inc.) headquartered in Long Beach, and consults extensively to the federally sponsored "Fusion Centers" as well as the private sector to such companies as Disney, Amgen, and Jose Cuervo. Employing a cadre of expert instructors that includes CIA case officers, FBI behaviorists, intelligence officers, emergency managers, firefighters, law enforcement, military, psychologists, management experts, health and many others, Hal and his firm train leaders, public safety professionals and businesses on how to detect and respond to situations where people are displaying "violent extremist" indicators, whether anti-corporate, anti-finance or anti-Western. In doing so, they also enable organizations to detect "other agendas," such as criminal and even corporate espionage. His firm's goal is to enable KIPP's clients to prevent and mitigate threats, not just respond to terrible acts after they have happened. Leaders are engaged rapidly with 'how-to' practical modules to detect emerging threats, mitigate risk and maintain the continuity of operations during these situations. In addition, Hal's firm has trained organizations, major military commands and even foreign country leadership teams about preparing, planning and managing a variety of major threats, both man-made and natural.

Hal is a retired Marine LtCol, serving in theaters throughout the world and in various capacities such as Director of Intelligence (G/J-2) for the 1st Marine Expeditionary Brigade and CENTCOM's Combined/Joint Task Force Consequence Management. He holds a Master's Degree from Thunderbird School of Global Management and a Bachelor's Degree from Willamette University; he is a graduate of the Army's Command and General Staff College, the Marine Corps' Amphibious Warfare School and has completed all academic curriculum of the Air War College, holding military officer specialties in intelligence, amphibious reconnaissance, infantry and engineering.

For more details and to register, please click here.
When:
Thursday, 02/23/17 at 7:00am - 7:00am | iCal
Where:
Back Bay Conference Center
3415 Michelson Drive
Irvine, CA 92612
[ Get Directions ]